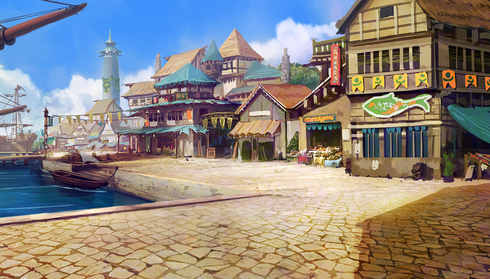 River Port, also known as Port 10, is located northwest of Roshmi and slightly southwest from the River Kingdom. It's right along the water and home to fisherman, merchants, and sailors. Traders often come from River Fairy Kingdom and Roshmi, and other nearby small settlements to do business here. Mercenaries come to sell their loot as well. Besides occasional pirating issues, it's a pretty stable village. It is quite small, but manages to have most of what's needed.
Many call it Port 10 because there had been a moment in time where port towns were constructed. A list had been made for ten ports to be created, and this one had been the tenth and final port constructed. Workers often referred to as port 10 and many had been employed for the job. Others nearby started also referring to it as port 10 after hearing the workers say it so much.
The current population is 500. There a few little homes but many live in apartments as well here above their shops.
Map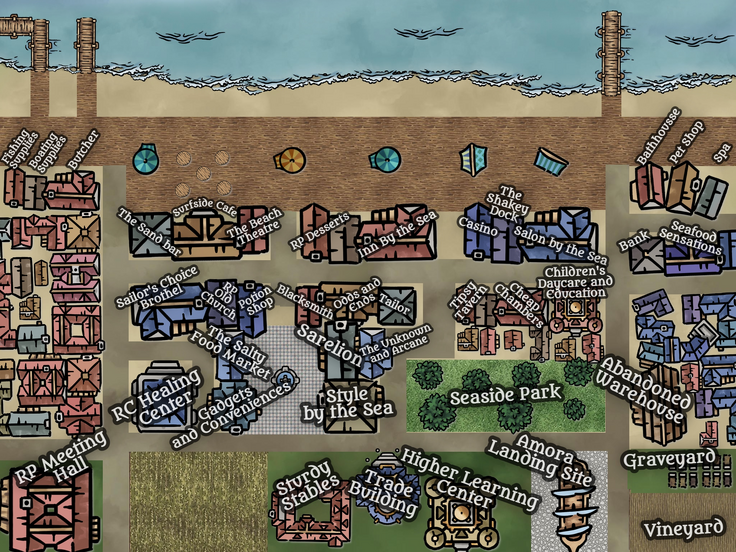 Establishments
Seafood Sensations
Menu: 12 amas per meal
Prawns and Garlic Sauce
Cyclops Crab Pasta
Fried Sarelion
Boiled Lobster
Crab Stirfry
Fried Squid Squares
Cheesy Tuna Sandwich
Rice and Eel balls
Crawntess Stew
Grilled Marmadune
Turtle Soup
Sides 3 amas per side
Potato Wedges
Vegetables
Rice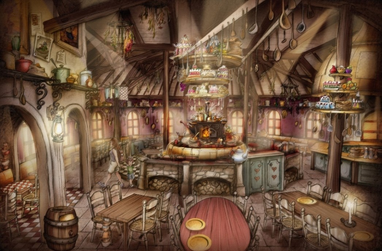 Surfside Cafe
Surfside Cafe is a small cafe on the boardwalk by the beach. There are a few tables of outdoor seating along the boardwalk. It's mostly average-priced food and nothing crazy: soups, sandwiches, breakfast foods and easier to make meals.
Menu: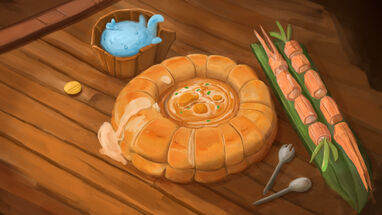 Lunch and Dinner - 10 amas
Cheesy Prawn Soup
Vegetable Medley Soup
Boar Meat with Utajakl sauce Sandwich
Sarelion and Vegetables
Yornis Stew
Seafood Noodles
Meat Soup in a Bread Round
Flame-Winged Fowlkin Meat Fried and Breaded
Tomato and Greho soup
Sweet Klaveni
Hot Bat Soup
Garlic Lobster Soup
Fleefa Fruit and Lobster Sandwich
Ergen Sandwich
Potato Cakes
Deep Fried Snake Bites
Desserts - 5 amas
Alaberry Roll
Cinnamon Cream
Climelo Cold Cream Palooza
Fallaid Bread
Cacao and Peanut Butter Cake

River Port Desserts
This bakery is located in the Town Square. Prices are relatively cheap.
Menu:
4 Amas Each Serving
Blas Buns
Fallaid Bread
Luckie Dips
Bannoch Biscuits
Toffee Apples
Cinnamon Hot Bread
Alaberry Custard
Alaberry Roll
Cacao and Peanut Butter Cake
Riverfruit Jelly Rounds
Sandwich Breads
Moon Breads (Crescents)
Peanut Butter Buns
The Long Loaf
Pecan Fleefa Cookies
Cacao Cookies
The Tipsy Tavern
This is a smaller and cheaper bar than the Sand Bar.
Drinks -
Riverfruit Slush - 5 amas
Cheap Wine of the Day - 1 ama
Beer - 1 ama
Sugar Rum - 2 ama
Salty Whiskey - 2 ama
The Messy Mix(random mix of liquor and juice, no telling how drunk you'll get) - 3 ama
Liquor Shots - 1 ama
Snacks- 3 ama each
Fried vegetables and dip
Cheesy rice balls in tomato sauce
The Shakey Dock
Musicians come to play at this dance club every night and after a day's work, many of the Port 10 citizens come to party. There is a small bar here as well, but there is a lot of room for dancing in front of a wooden stage.
Drinks -
Cheap Beer - 2 ama
Siren Juice(So tasty yet strong, it seduces you into being drunk after one drink)- 3 amas
Snowberry Shots - 1 ama
The Sand Bar

You can get pretty much anything to drink here from beers, wines to Riverfruit Slushes. They don't have much food to eat other than cheesy potato bites, bird wings and fried Tajokel with sweet and tart sauce.
Menu:
Drinks -
Riverfruit Slush - 4 amas
Red Wine - 3 amas
White Wine - 3 amas
Purple Wine - 4 amas
The Beach Beer - 2 ama
Climelo Rum - 3 amas
Mango Slush -4 amas
Strawberry Swirl - 4 amas
The Fleefa - 4 amas
Snowberry Shots - 1 ama
Food - 5 amas
Cheesy Potato Bites
Fried Tajokel with Sweet and Tart Sauce
Bird Wings
Sarelion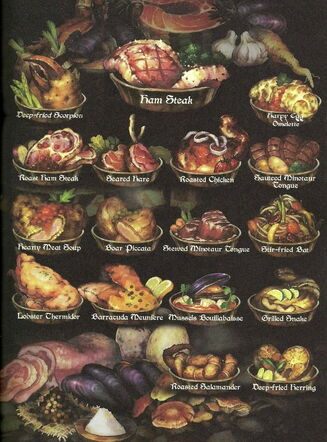 This is a fine dining establishment within the Town Square.
Menu:
Meals - 13 amas
Deep Fried Scorpion
Seared Hare
Sarelion Fish
Harpy Egg Omelette
Roasted Ham Steak
Roasted Chicken
Boar Piccata
Stir-Fried Bat
Salmon
Sauteed Minotaur Tongue
Hearty Meat Soup
Noodles and Meats
Stewed Minotaur Tongue
Lobster Thermidor
Mussels
Barracuda
Grilled Snake
Roasted Salamander
Deep Fried Herring
Baked Yornis
Fowlkin Stew
Jackalope Meat
Sides - 4 amas each
Potato Cakes
Cheesy Potatoes
Butter Cakes
Vegetables of the Day
Fruit Plate
Meat Plate
Bannoch Buns
Mashed Potatoes
Creamy Noodle Salad
Style by the Sea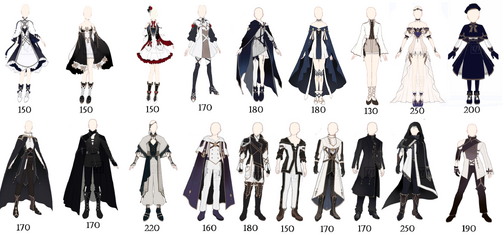 This is a clothing store in River Port. It's not the cheapest, but it has varying styles and lots of sizing for all different species.

Art by Quinnyllada on Deviantart
Current Boardwalk Stalls
Clothing stands have a rack of clothing next to a wooden table with a seated stall employee. Food stands have food under a glass protector and a little portable fira. as well as cold box. All are right along the beach!

Magnificent Men
Vivacious Vixens
Seafarer Stand
(1-2 Female, 3-5 Male)
Pie Party
Mini Cheesy Meat Sandwiches
Honey Toasts
River Port Casino
Fairy Tree
You pull a branch lever and four slots on a pretty, tree-shaped machine start rolling different drawings of fairies. 20 amas to play.
Guess four numbers. Roll 4 d20s.
If you get 1 number right --> 10 amas
If you get 2 numbers right --> 20 amas
If you get 3 numbers right --> 50 amas
If you get 4 numbers right --> 100 amas
Luck of the Dice - Player rolls 2 6-sided dice on a table. If the numbers add up to 7 or 12, you win. You can double the bet and add another dice in. 25 amas minimum to play.
Roll 2d6!  If the numbers add to 7 or 12 you win.
Ten Card Pot - 30 amas minimum bet - Multiple players - Card game
Everyone puts in their bet. A GM will roll 7d52 secretly and PM you each the numbers on your cards.
No one shows each other their cards. You can raise your bet if you want at this point or leave.
Then roll take 4 more cards. (4d52). Raise or leave. Then total all ur cards.
Whoever has highest total takes 80%  of the pot while the casino takes 20%.
Number Bet Electronic Game: Guess a number out of 200. Roll 2d100. If you guess right, you win 500 amas. 15 amas to play.
Bank
Everyone has the option to have their name and current balance stored in a database in a solar box. Stationed solar boxes are available at banks for you to have your face screened and then have the ability to deposit or withdraw amas. The information is kept private.

Other Notable Places
River Port Health Center
River Port Meeting Hall
The Beach Theater
River Port Old Church
The Salty Food Market
River Port Emergency Center
Seaside Park
Beauty by the Beach (Hair and Makeup Services for both Male and Female)
Blacksmith
Tailor
Gadgets and Conveniences
Potion Shop
Sturdy Stables
Odds and Ends
The Amora Landing Area
Merchant and Trading Building
The Big Fishing Dock